Drasson Draftski (1959-) was a racer in CARCA from 1989 to 1998 (the year he almost died). His model is Claude Scruggs' model.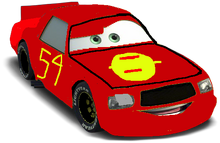 Draftski started his career racing the number 29x for ShadowTech, a company well known for creating a working prototype that set the basis for future next-generation models: the model is called the ShadowTech 09x. This was in turn upgraded to a look that is similar to the next-gens of today by Teleforce Ltd. which sponsored Justin Saturn along with Mauler. He had some success but was unable to net a win.
Draftski willingly went out of the team due to a controversy surrounding the racing team that included his team that he said he didn't want to be a part of. Due to success, he was picked up by the 54 team. He finished so well in the standings that since none of the rookies did well, the Rookie part was crossed out and replaced with Veteran and awarded to Draftski. Also, he won the championship, can't leave that out.
1991-1997
Edit
These years were a slump but changed in 1995 before going back into a slump.
Draftski started extremely well and was first in points by the Road America race. Unfortunately, his life would almost be taken there.
Near death
Edit
The race at Road America would be exciting for Draftski as if he won, he'd be so far ahead that others would have little chance of catching up.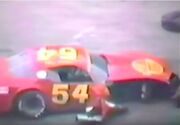 He raced well but got stuck in 15th, and then Justin Saturn made contact with Crane Wesdrive, causing Justin to start the Big One. Draftski made contact with Saturn, and ended up t-boning Wesdrive, before being hit extremely hard in the right front, causing it to tear apart as he lost a wheel, and then flipped over once and landed b ending up at the bottom of the racetrack with Wesdrive. aWesdrive was killed instantly as they were hit head-on. He was on a stamp commemorating racing heroes, and in a collection of the best CARCA competitors of all time, ranking #5.
Community content is available under
CC-BY-SA
unless otherwise noted.